Sign Repair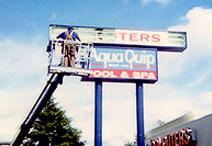 As a business owner, it's important to keep up a clean appearance. A sign can be a great way to advertise, but if it's broken or doesn't work correctly, it can send the wrong message. When they need fast, efficient, and experienced sign repair, Tacoma businesses call Sign-Tech Electric LLC.
Specialist sign repair is more important than you realize.
Companies may say they perform sign repair, but we specialize in repairing electric signs. Every single job we do is overseen by a licensed electrician and journeyman. We have more than 20 years of experience repairing electric signs. This allows us to repair to the highest threshold for quality, safety, and durability.
Don't put off Sign Repair
Strengthen your image – Your sign may be the first interaction a customer has with your company. The way your sign looks acts as an indicator for your business. A broken, half lit, or cracked sign may make consumers think your business cannot properly take care of their needs.
Bring in business – Poorly lit signs or those with damaged lighting components also fail to advertise properly. This can cost you significant business when consumers cannot find you, don't realize you are open, or misinterpret and misremember the name of your business. Sign repair Tacoma business owners take advantage of pays for itself by eliminating this source of lost revenue.
Get repairs that last – For sign repair, Tacoma businesses should use a company that performs repairs that last. We only use the highest quality materials to return your sign to a pre-damaged state. This makes for the strongest repairs, and provides electric signage you can depend on.
Sign Problems We Repair Include:
Flickering or dim lights
Buzzing sounds
Frequent blown fuses
Photo cell and timer problems
Broken panels or tubes
UV and weathering damage
Fluorescent to LED conversion
Sign flickers then goes out
Sign won't light
Dim sections of neon sign
When you require sign repair, trust the professionals with the experience, technicians, and equipment to do the job right. Call (253) 922-2146 or Contact Us today for sign repair in Tacoma.
---
Other Services Include: