Sign Maintenance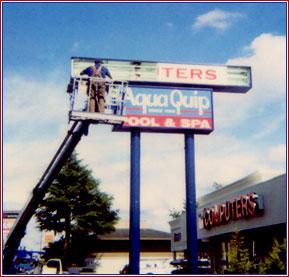 One of the easiest ways to get the most from your investment is to maintain it. With professional sign maintenance, Tacoma businesses can keep their signs operating in peak condition. These services allow for a number of benefits that can substantially reduce the cost of long-term ownership. As Tacoma's premiere sign maintenance provider, Sign-Tech Electric LLC has been maintaining the signs that keep business moving forward for over 20 years.
Get more from your sign with regular maintenance!
Prevention saves money – Keeping a sign properly maintained can save you money. Preventative measures make sure your signs remain in great condition and provide early detection for potential problems. This is especially true for outdoor signs. When moisture gets into a sign it can quickly damage electrical components. We'll look for physical damage, sealing breakage, and other indications that require action. We can perform on the spot work to keep your sign secure, and prevent future damage.
Scheduling on your time – Running a business takes time, and every sign helps bring business in. That's why we perform sign maintenance Tacoma business owners can depend on to be performed at the most convenient hours. Depending on your sign types, different maintenance schedules provide steady reliability. We know electric signs inside and out, and will formulate the perfect schedule to keep yours working the way they are meant to.
Professional maintenance & repairs – We only trust journeyman and electricians for Tacoma sign maintenance. That's because our specialists are experienced, knowledgeable, and know exactly what to inspect and which areas need the most attention on different sign types. In the event you need repair work, our craftsmanship will have your sign back to a pre-damaged state in no time.
When you want professional sign maintenance Tacoma businesses depend on for regular, reliable, and affordable servicing call (253) 922-2146 or Contact Us today.

---
Other Services Include: