Electric Signs
Our Electric Signs Capabilities Include:
Interior & Exterior Signage
Retrofit Installations
Awning Installations
Annual Cleaning Programs
Parking Lot Lighting
Preventative Maintenance Programs
Lamp & Ballast Replacement
Neon Repair & Replacement
Energy-Saving Retrofits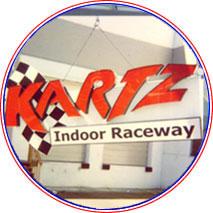 We will also service your needs by working with landlords and city departments to secure landlord approval for your electric signs Seattle, secure permits for installation and schedule variance meetings if needed.
Outage Surveys
Complete Site Survey
Complete Permiting Service
Sign Code Compliance
Our highly-trained staff is knowledgeable about licensing regulations for electric signs, permitting, geography and every aspect of electric sign installation. Whether you need a major refurbishment, a minor lamp change or just electric sign installation services, we have the fleet and experienced personnel to meet any of your service needs.
---
Channel Letters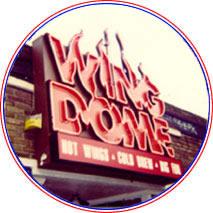 Neon channel letters are becoming more and more popular for both business signs and property management companies. Our team of fabricators have the ability to be creative in the application of neon channels in electric signs, giving the ability to conform to management criteria and still stand out individually within a complex.
Most any logo can utilize this style of signage and be well represented. We have helped many clients overcome city and management obstacles to achieve their individual goals, creating exceptional electric signs that stand out against the Seattle skyline .
---
Cabinet Signs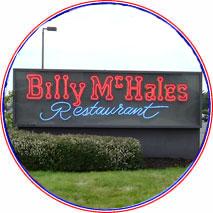 Monument Sign with Neon Letters
We have learned and mastered the traditional cabinet sign style, creating wonderful custom neon signs that for a wide variety of businesses. We have installed many custom cabinet signs in various places, helping business owners to achieve a classic look for their personalized signs that really pops.
Additionally, our staff designers and vinyl experts can transfer logos and design ideas to cabinet faces. We can also design or re-design an individual look for our clients Electric signs Seattle. Our art work is the sole property of Sign-Tech Electric LLC. No other company can reproduce your look, and we assure you that we will not re-sell your design to any other client.
---
Comprehensive Electric Signs Seattle
Electric Sign Installation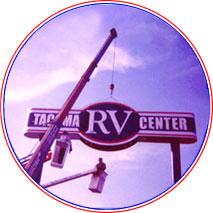 Custom Pole Sign Seattle RV
As a full service sign company in Seattle We are equipped to install any sized sign at any height. We employ licensed sign electrician who have many years of experience in the sign business.
---
Interior Signage
Fixtures
Kiosks
Menu-Boards & Strips
Room Identifications
Vinyl Graphics
Wall Logos
Exterior Business Signage
Architectural Signs
Awnings
Canopy Systems
Channel Letters
Directional Signs
Drive-Thru Signs
Illuminated Logos
Monument Signs
Pylons
LED Message Centers
Time & Temperature Displays
---
Electric Sign & Lighting Maintenance
Pole Sign Maintenance and Repair
We provide service and maintenance to electric signs Seattle or non-illuminated signs. Because we hire both journeymen electrician and sign electricians, we are able to troubleshoot and repair any sign problems.
Pole Light Installation

Pole Light Maintenance

Sign Maintenance
---